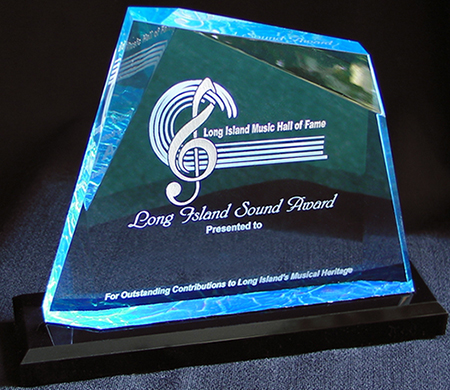 Back when the Long Island Music and Entertainment Hall of Fame was just getting started, we had the idea that we should present awards to Long Island musicians "For Outstanding Contributions to Long Island's Musical Heritage." These weren't intended as full inductions into the Hall, but were instead meant as our public recognition for perhaps more local people we thought should be recognized and celebrated. A few major international artists with strong Long Island cred managed to sneak in there, too. Thus was born the Long Island Sound Award – the LISA. Since 2004, we presented quite a few of these lovely awards at venues throughout Long Island and even Manhattan's Lincoln Center. Here's the list of recipients of this prestigious honor:
Blanche Abram & Naomi Drucker
Barnaby Bye
Pat Benatar
Gary U.S. Bonds
Cedar Beach Blues Festival & Mark Gresser
Herbert A. Deutsch
Foghat
Gene Casey of Gene Casey and the Lonesharks
Frank Carillo
Billy Cobham
Edward "Little Buster" Forehand
Deborah Gibson
Arlo Guthrie
Dr. Jason Hanley
Michael Rothbard & Kathy Bodily
Jim Small Band
Kerry Kearney Band
Kenny Laguna
Jack Licitra
Denis McNamara
Melanie
Buddy Merriam
Eddie Money
Orleans
Norm Prusslin
Queens Symphony Orchestra
Patricia & Paul Rudoff
Stephen Schwartz
Richard Shindell
Sam Taylor
Twisted Sister
Wes Houston Band
Leslie West
Toby Walker
Steve Addabbo
Phillip Bontempo
Bradstock
David Bennett Cohen
Long Island Museum
Stanton Anderson Band
Sonny LaRosa
Distinguished Musician Award
The Long Island Music and Entertainment Hall of Fame Distinguished Musician Award is given to those individuals who, while not directly connected to Long Island, have contributed to Long Island's musical legacy by performing regularly for many years on Long Island, and participating in Long Island's musical community.
Aztec Two-Step
Jorma Kaukonen
The Smithereens
Terry Adams