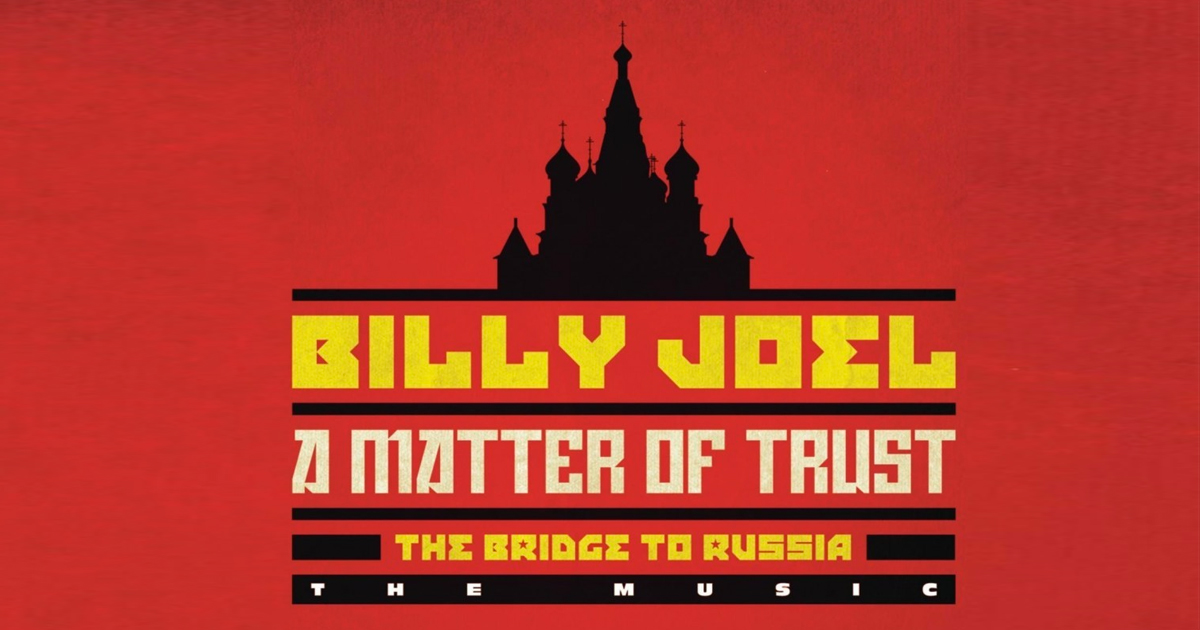 BILLY JOEL: A Matter of Trust – The Bridge to Russia
October 16, 2014
Contact: Jill Russell – (631)418-6699 / jill@russellrelations.com
Tom Needham – (631) 361-7917soundsoffilm@yahoo.com 
Long Island Music Hall of Fame Hosts Fundraiser Screening of
BILLY JOEL: A Matter of Trust – The Bridge to Russia
"BILLY JOEL: A Matter of Trust – The Bridge to Russia" will be screened as a fundraiser for the Long IslandMusic Hall of Fame on Monday, October 20 at 7:30 pm at Cinema Arts Centre, 423 Park Ave., Huntington,NY.  This re-released expanded edition of Billy Joel's legendary 1987 Russian concert tour documentary features never before seen footage, interviews and intimate accounts of one of the most important toursJoel has ever done as a performer.  The evening will be moderated by WUSB's  "Sounds of Film" host TomNeedham with special guests to include Emmy-winning director Jim Brown, Oleg Smirnoff and guitarist Russell Javors.
The special screening is a prelude to the bi-annual Induction Gala set to take place on October 23 rd where the Long Island Music and Entertainment Hall of Fame will be paying tribute to Billy Joel and band members Liberty DeVito, Russell Javors, Doug Stegmeyer, Dave Lebolt, Mark Rivera and Kevin Dukes by presenting a special award to mark the anniversary of the group's historic trip to Russia at Huntington's Paramount Theater. The film, Billy Joel: A Matter of Trust-the Bridge to Russia, screening at Cinema Arts Centre on October 20th, highlights the music and the words of this legendary group of musicians.
Until 1987, Billy Joel's music had seldom been heard beyond the Iron Curtain.  That all changed with a historical invitation to Billy Joel to perform in the Soviet Union. The boy from the Bronx became one of American pop's pioneering musical ambassadors, bringing to Russia their first fully-staged high-energy rock show.
"We are extremely excited to give Billy Joel fans a rare opportunity to see this film in a theater, and to meet the important people associated with the film including legendary guitarist Russell Javors, award winning director Jim Brown and Billy's personal interpreter, Oleg Smirnoff", said Long Island Music and Entertainment Hall of Fame Board Member, Tom Needham.
Director Jim Brown has been at work for several years on a doc about rock's significant role in thawing the Cold War, for which he interviewed Joel in 2012. A Matter of Trust draws on material from the documentary of the same name about Joel's Soviet tour and also features unseen concert and offstage footage and extensive interviews with Joel, Christie Brinkley, key band and crew members, and the entourage's wryly observant translator, giving an intimate account of the experience for the first time.  (USA, 2014, 75 min. | Director: Jim Brown)