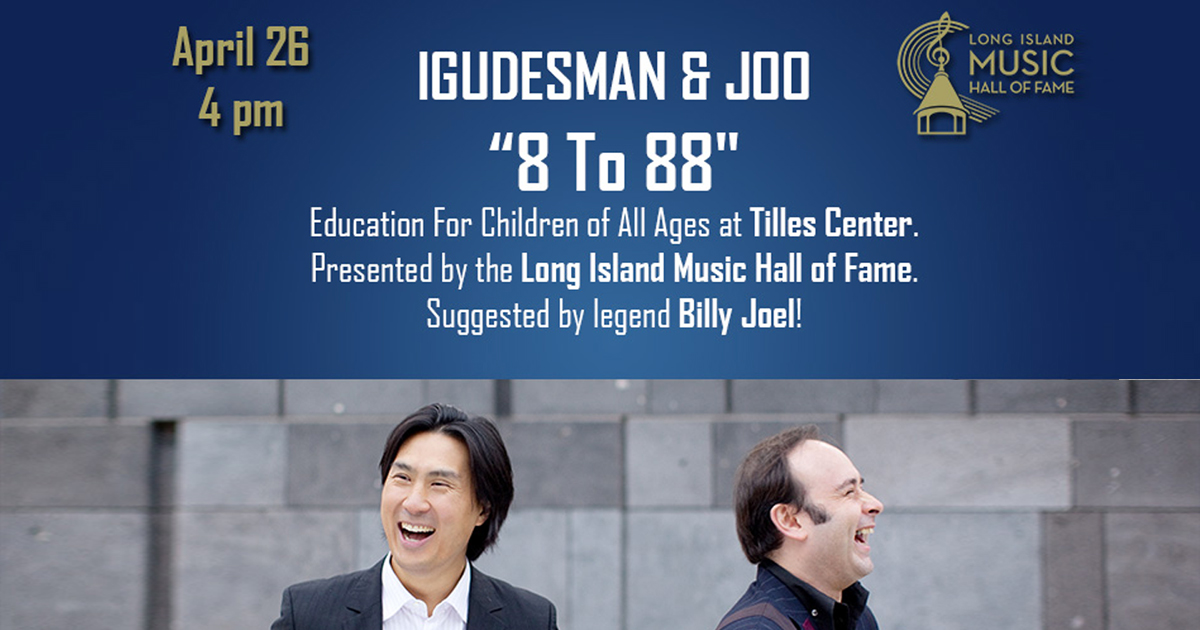 LIMHoF Presents Igudesman & Joo and Their Internationally Renowned 8 to 88 Music Education Program
April 10, 2014
On April 26 at 4 PM at The Tilles Center – LIMHoF presented Igudesman & Joo and their internationally renowned 8 to 88 Music Education Program. The event was free to Long Island music students. Students (other than pianists) were encouraged to bring their instruments and parents welcome to audit the afternoon program.
Here's some photos from the event:
From their web bio:
"Alek­sey Igudes­man and Hyung-ki Joo are two clas­si­cal musi­cians who have taken the world by storm with their unique and hilar­i­ous the­atri­cal shows, which com­bine com­edy with clas­si­cal music and pop­u­lar cul­ture. Their clips on YouTube, to date, have gath­ered over 28 mil­lion hits, and the duo has appeared on tele­vi­sion in numer­ous coun­tries. Equally com­fort­able per­form­ing in clas­si­cal con­cert halls, as well as in sta­di­ums in front of crowds of 18,000, their col­lec­tive dream is to make clas­si­cal music acces­si­ble to a wider and younger audience."
Visit them at http://www.igudesmanandjoo.com/.
See a video about Igudesman & Joo's music education programs at