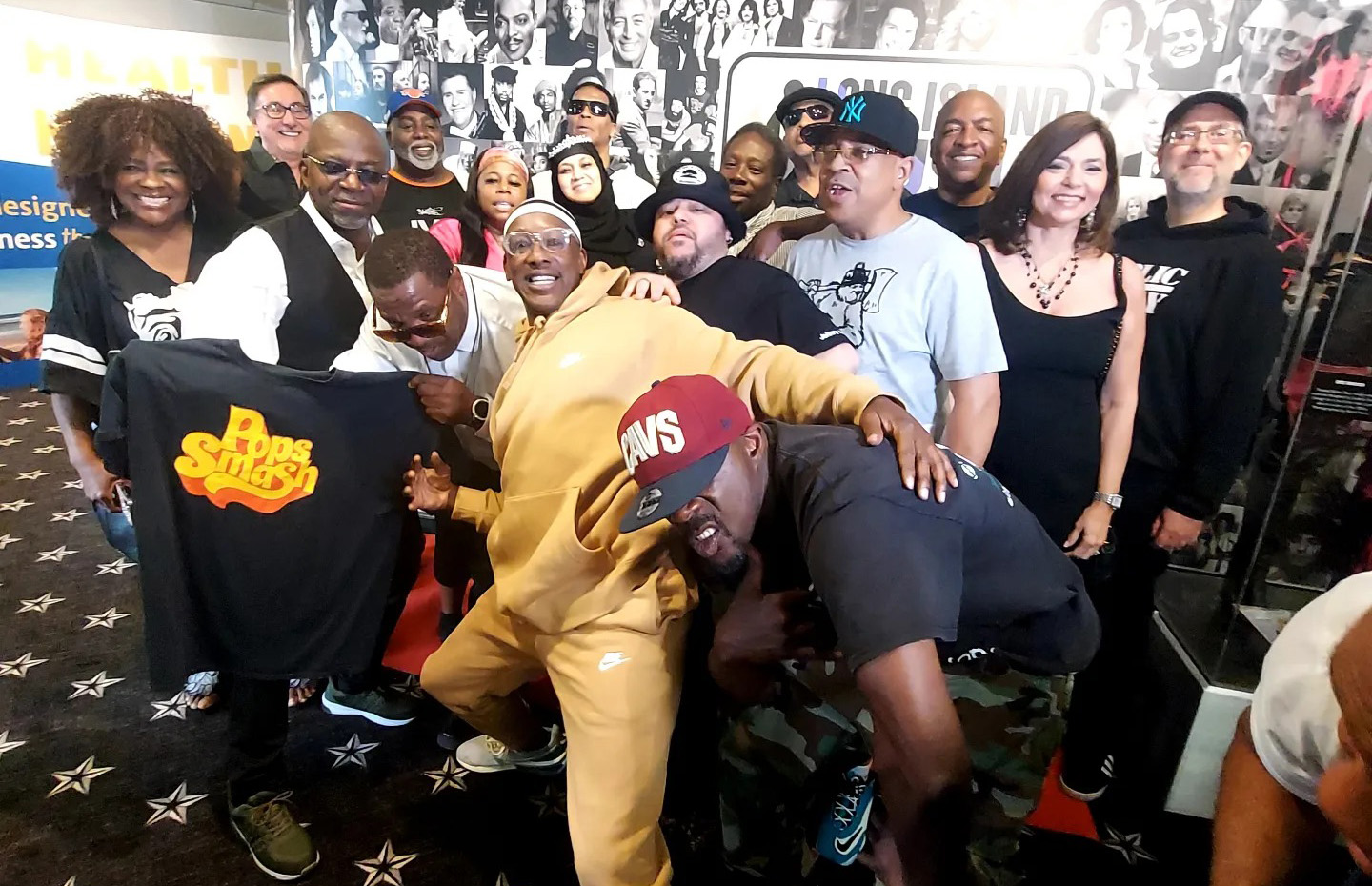 Long Island Music & Entertainment Hall of Fame Celebrates Hip-Hop's 50th Anniversary with Unveiling of LL COOL J Statue and Hip-Hop Concert
June 16, 2023
Events Included Performances and Panel Discussions with Son of Bazerk, A.J. Rock (J.V.C. F.O.R.C.E.), DJ Jazzy Jay, Dinco D (Leaders of the New School), DJ Johnny Juice and Keith Schocklee (Public Enemy) MC Glamorous and Ralph McDaniels (Video Music Box) with surprise guest appearance by Keith Murray
STONY BROOK, NY—The Long Island Music and Entertainment Hall Of Fame (LIMEHOF) celebrated the 50th anniversary of hip-hop recently with a special concert and panel discussion at the venue's home base in Stony Brook Village (97 Main Street, Stony Brook, NY).
The event kicked off with the unveiling of a statue of LIMEHOF inductee LL COOL J with the statues' creator artist Sherwin Banfield. LL COOL J's former right-hand man ELove was also there to celebrate.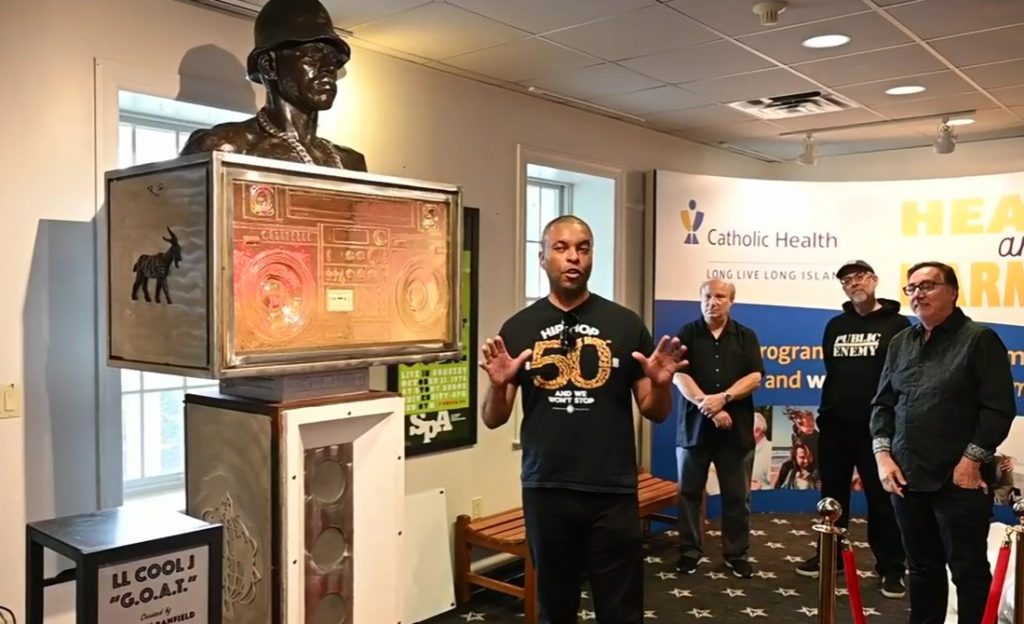 LL COOL J (James Todd Smith) was originally from Bay Shore on Long Island and later moved to St. Albans, Queens. He was inducted into LIMEHOF in 2008 as an iconic figure who revolutionized hip hop music with his unique style, charismatic personality and influential lyrics.
The sustainable sonic monument, The G.O.A.T. Monument, Going Back to The Meadows, A Tribute to LL COOL J and Performance at FMCP, was created in 2021 by sculptor Sherwin Banfield. He was inspired to create the statute to honor LL COOL J as "a culture shifter and a legend of hip hop".  The statute depicts LL COOL J from the 1980's era. It measures 8.5 feet tall by 3.5 feet wide by 3 feet in length and weighs 600 pounds. It is comprised of Bronze, Stainless Steel, Steel, Winterstone, Resin, Cement, Wood, Audio & Lighting, and contains a Solar Power System to play music. It was originally displayed in Flushing Meadows Corona Park for a year.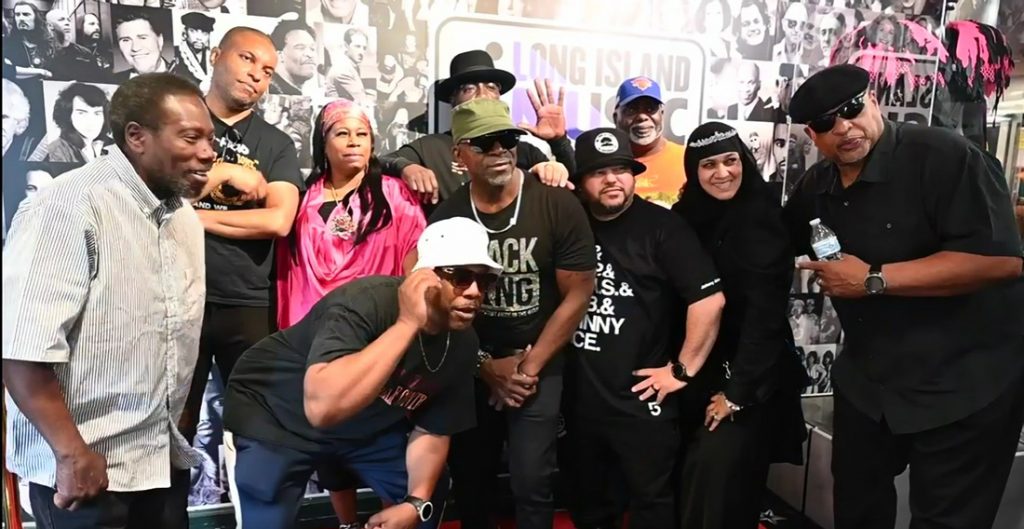 "I think it's appropriate to have it displayed in a new location where fans, music lovers and art enthusiasts of that location will have an opportunity to see this sculpture of a living legend," Banfield said. "Not only is it a three-dimensional visual representation of him but it also plays his music out of the sculpture so you get to experience a visual, tactile and audible experience with the monument. I think it's great that it's moving from its original location in Queens where LL Cool J honed his artistic craft to where he was born and raised in Long Island so it's tracking his journey from one space to another."
The celebration event that followed featured legendary stars Son of Bazerk, A.J. Rock (of J.V.C. F.O.R.C.E.), DJ Jazzy Jay, MC Glamorous, DJ Johnny Juice and Producer Keith Schocklee (of Public Enemy), Dinco D (Leaders of the New School), and special guest Ralph McDaniels (of Video Music Box). Rapper Keith Murray made a special guest appearance.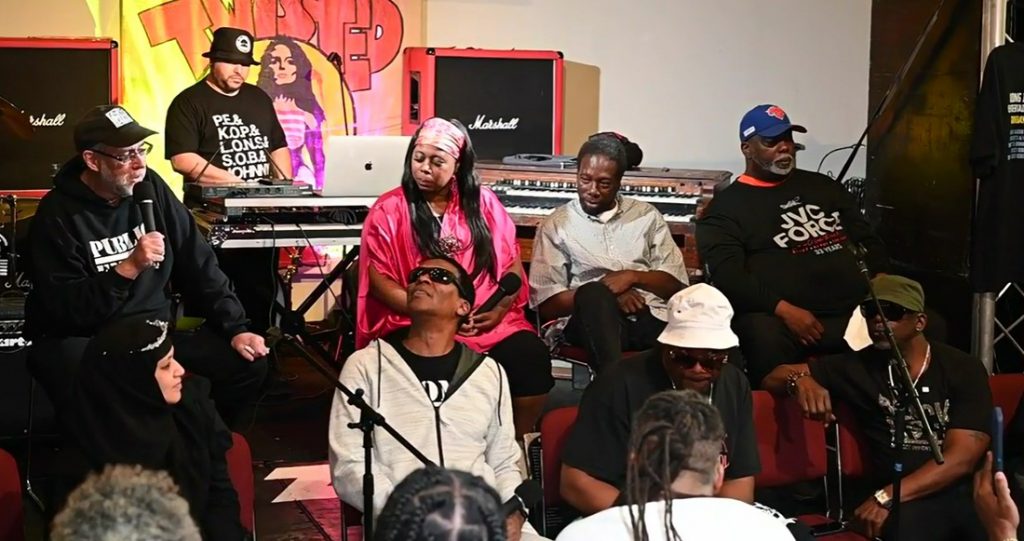 Tom Needham, LIMEHOF Vice Chairman and longtime host of the "Sounds of Film Radio Show," moderated a panel discussion with Keith Schocklee, MC Glamorous, JVC Force's A.J. Rock, Leaders of the New School's Dinco D, DJ Johnny Juice and Ralph McDaniels. That was followed by a series of live music performances with DJ Jazzy Jay, MC Glamorous, A.J. Rock, Dinco D, DJ Johnny Juice and Son of Bazerk.

"We are excited to pay tribute to the 50th Anniversary of Hip-Hop with a live concert performed by some of hip hop's most influential artists, all from Long Island," said Ernie Canadeo, LIMEHOF Chairman. "It is a testament to Long Island's prominent and continuing role in hip-hop's legacy. We are also honored to now house the iconic LL COOL J statue which stands not only as an artifact on display but a monument to the spirit of Hip Hop reflected in LL COOL J's personal story and growth as a hip hop legend that continues to inspire music artists of today and for generations to come."

Through the years, LIMEHOF has paid tribute to the hip-hop community by inducting artists LL Cool J, Run-DMC, Public Enemy, Eric B. & Rakim, Big Daddy Kane, Kurtis Blow, Whodini, Salt-N-Pepa, and EPMD. LIMEHOF plans to induct the hip hop group The Fat Boys later this summer.
For more information about LIMEHOF and for future scheduled events, please visit https://www.limusichalloffame.org/museum/
About LIMEHOF
Founded in 2004, the Long Island Music and Entertainment Hall Of Fame (LIMEHOF) is a 501(c) (3) organization dedicated to the idea that Long Island's musical and entertainment heritage is an important resource to be celebrated and preserved for future generations. The organization, which encompasses New York State's Nassau, Suffolk, Queens, and Kings (Brooklyn) Counties, was created as a place of community that inspires and explores Long Island music and entertainment in all its forms. In 2022, LIMEHOF opened its first Hall of Fame building location in Stony Brook Village. To date, the organization has inducted more than 120 musicians and music industry executives, and also offers education programs and scholarships, and awards to Long Island students and educators.