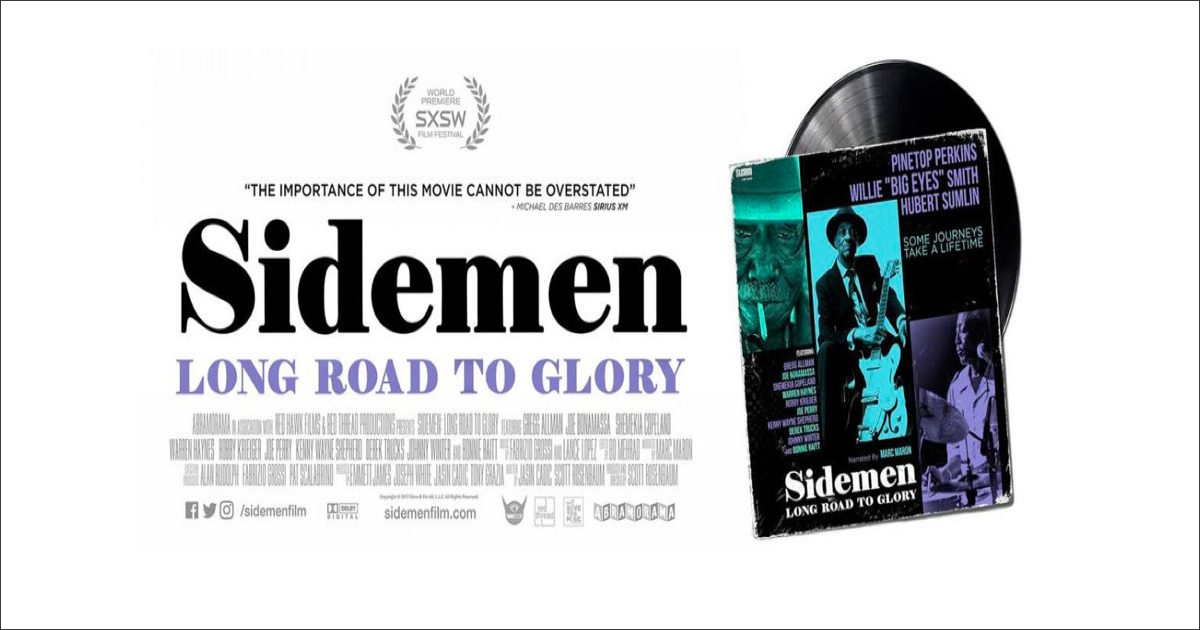 Long Island Music and Entertainment Hall of Fame Co-Sponsors Screening of Sidemen: Long Road to Glory on October 30 at Long Island Museum in Stony Brook
October 25, 2017
The Long Island Music and Entertainment Hall of Fame will co-sponsor a Scott Sharrard concert, a screening of Sidemen: Long Road to Glory, and a Q & A on Monday, October 30 at The Long Island Museum.
Stony Brook, NY – October 21, 2017 –  The Port Jefferson Documentary Series' presentation of Sidemen: Long Road to Glory is an intimate look at the incredible lives and legacies of piano player Pinetop Perkins, drummer Willie "Big Eyes" Smith and guitarist Hubert Sumlin, all Muddy Waters and Howlin' Wolf sidemen. The film captures some of the last interviews and their final live performances together before their deaths in 2011. The historic live shows are accompanied by performances and personal insights from many of the blues and rock stars these legendary sidemen inspired including: Bonnie Raitt, Gregg Allman, Derek Trucks, Shemekia Copeland, Robby Krieger, Kenny Wayne Shepherd, Joe Perry, Joe Bonamassa, Johnny Winter and more.
A pre-screening acoustic concert with Scott Sharrard, now the leader of the Scott Sharrard & The Brickyard Band, will take place at 6:00 PM in the Gillespie Room of the Carriage House Museum at the The Long Island Museum
Guest speakers for the Q&A will be director, Scott Rosenbaum, producer, Tony Grazia and former musical director and lead guitarist in the Gregg Allman Band, Scott Sharrard, who also appears in the film. Tom Needham, vice chair of LIMHoF and host of WUSB 90.1 FM's Sounds of Film will moderate the Q&A.
Advance combo tickets for the concert/film are available at portjeffdocumentaryseries.com/ticketsvenues. Doors will open at 5:30 PM. Tickets to just the film at 7:00 PM, as available, will be sold at the door (no credit cards. please). The doors will open just for the film at approx. 6:50 PM. 
The Long Island Music and Entertainment Hall of Fame is a is a 501(c)(3) not-for-profit organization dedicated to recognizing the significant achievements of musicians who were either born or spent a significant part of their career on Long Island, Including Nassau, Suffolk, Queens and Brooklyn. Beyond the recognition of famed composers, musicians and artists, LIMHoF has made significant inroads in support of music education on Long Island, including Educator of Note recognitions, scholarships for music students, and a new mobile music museum designed for school visits. For more information on the LI Music Hall of Fame, visit their website at https://www.limusichalloffame.org/.