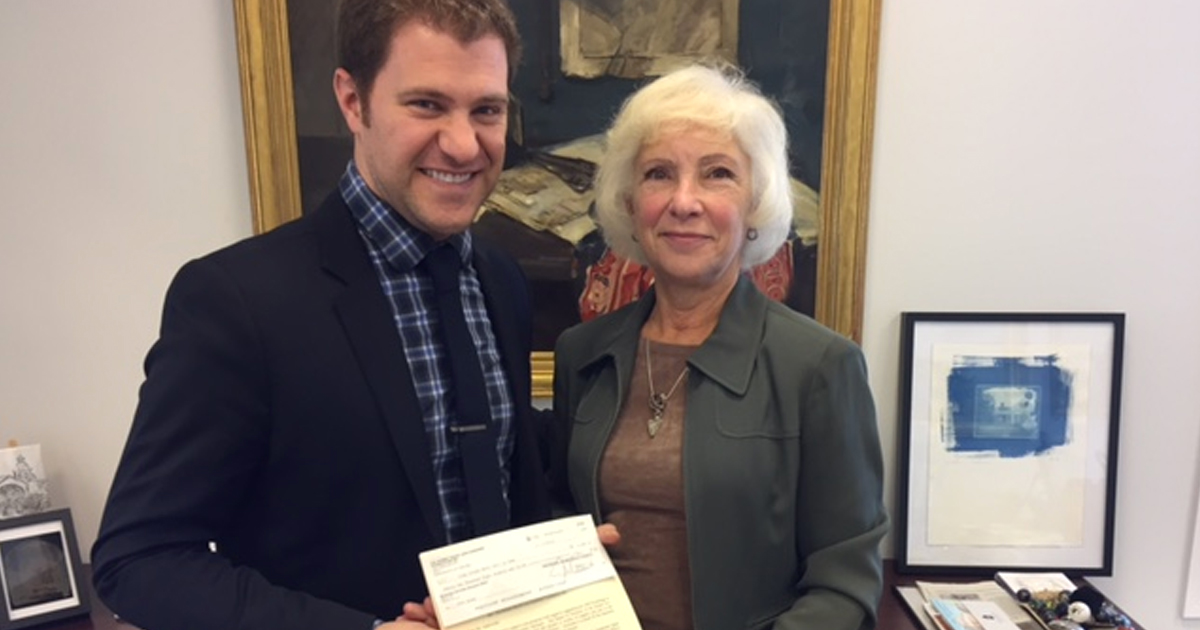 Long Island Music and Entertainment Hall of Fame Receives Grant from The Robert D.L. Gardiner Foundation
November 21, 2016
Pictured above: Joe Jankowski, Executive Director – LIMHoF & Kathryn Curran, Executive Director – Gardiner Foundation
---
The Long Island Music and Entertainment Hall of Fame is proud to be the recipient of a 2016-2017 Grant from the Robert D.L. Gardiner Foundation.
This grant in the amount of $21,800.18 was distributed by the Gardiner Foundation's Board of Directors to support the Hall's Mobile Education Museum, which was recently on display at the Hall of Fame's 2016 Induction Awards Ceremony & Gala.
This grant will help kick start the development and design process of the exhibit that will be contained within the mobile museum and has also assisted the Hall with exterior work that has already been completed on the vehicle.
Inside the "Tour Bus" will be exhibits, archives, collections and educational programs that will showcase the lives and careers of our inductees and take our visitors on an exciting journey through the musical history of Brooklyn, Queens, Nassau and Suffolk.  Notable artists who have already pledged their support to the project include Billy Joel, Joan Jett, Darryl "DMC" McDaniels, Pat Benatar, the Coltrane Family, Brian Setzer, Twisted Sister and others who are set to come "on board" shortly. 
Once complete, the mobile education museum will be used as an educational tool, readily available to travel to the 127 school districts and over 200 private schools across Long Island, including underserved areas which may not have the means to travel to an actual museum.  Educational curriculum is being designed by top Long Island educators in order to provide insightful learning experiences about music history and a variety of other related subjects including history, math, technology and more.
"We are so honored to have the support of the Gardiner Foundation on this exciting project", said Joe Jankowski, Executive Director of the Hall of Fame. "This grant will assist us in executing our mission: to recognize, celebrate and preserve the exceptional music history of the Long Island region".
The Robert David Lion Gardiner Foundation, established in 1987, primarily supports the study of New York State history. The purpose of the Foundation is to educate, cultivate, encourage and sponsor.
For more information about the Robert David Lion Gardiner Foundation visit: http://www.rdlgfoundation.org/