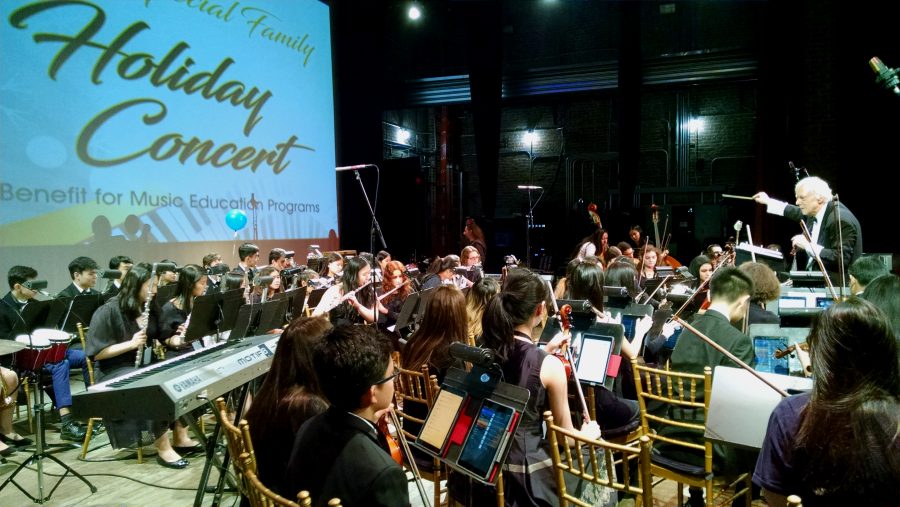 Recognized High Schools And Friends of LIMHOF Bring Their "A" Game to the Long Island Music and Entertainment Hall of Fame's 2019 Holiday Benefit Concert
December 10, 2019
The sounds of the season were recently performed in the Long Island Music and Entertainment Hall of Fame's (LIMHOF) Very Special Holiday Concert held at Jovia Presents The Space at Westbury Theater.
The event featured music students from six school districts across Long Island including John L. Miller Great Neck North. William A. Shine Great Neck South, Farmingdale, Uniondale, Longwood and Queens High Schools. Each district was recognized earlier this year by LIMHOF for their music programs.
"Part of Long Island Music and Entertainment Hall of Fame's mission is to support music education and acknowledge those that put the effort in to inspire the musicians of the future," said Ernie Canadeo, Chairman of the LIMHOF Board. "There is no better way to celebrate that commitment than to host a concert where these schools, educators and students can shine!   We had a packed house at Jovia presents The Space at Westbury. Why – because the talent is real!  Performances by our 2019 recognized high schools, a jam by Friends of LIMHOF and inductees and a Mobile Museum –all in one afternoon – now that is Long Island music!"
Over 800 people attended the event including some surprise celebrity guests, LIMHOF 2018 Inductees EPMD (Parrish Smith and Erick Sermon) showed up to support the cause and encourage the kids to follow their dreams.
We were honored to be given the gift of a $12,000 donation from the Jill's Dreams Foundation in memory of Jill Nees-Russell from Port Jefferson at the event.  Jill was a Board member who was passionate about music and dedicated to supporting LIMHOF's mission.
"It is a fantastic opportunity that the Long Island Music and Entertainment Hall of Fame provides music educators to go through the process of applying for the High School Recognition Award," said Joseph Rutkowski, Instrumental Music Director for John L. Miller-Great Neck North High School. "Documenting our activities and asking parents, teachers and administrators for their letters of reference makes us aware of our goal as being music educators: help a new generation of young people realize the significance and joy of listening to and performing music by the great composers. Having received the Award and performing at the LIMHOF Holiday Concert in such a prestigious venue as Jovia Presents The Space At Westbury enhances our students and parents' life experience by hearing the excellent students from other schools perform, while knowing that an audience of students and parents from other schools get to hear our students as well!"
Michael Schwartz, Musical Director of Great Neck South High School explained "We are truly honored to have Great Neck South High School be selected as a "Program of Excellence" by the Long Island Music and Entertainment Hall of Fame for 2018-2019. Our students take great pride in our music program and show it on a daily basis in class, rehearsals and at public performances. They were so excited to perform in the Long Island Hall of Fame Holiday Concert to represent the Great Neck District, Great Neck South High School, and our music program. I could not be more proud of their support, effort and musical performance! The response from the audience and other music directors was the icing on the cake to a perfect day!"
After several years in the planning stages this event was the public debut of the recently completed inside of the Long Island Music and Entertainment Hall of Fame's Mobile Museum. Attendees got an exclusive first look at the interior of the 38-foot Winnebago; a tour bus that honors the 100+ Long Island inductees into the Hall.
"Our vision of a Mobile Museum has finally become a reality, thanks to the support of Jovia Financial," said Kelly Leung, a LIMHOF Board Member. "It was a labor of love, designed to inspire and educate, and Jovia understood our commitment to Long Island's music heritage and music education. We packed a great deal into 300 square feet and look forward to sharing it across the Island at community events, festivals, and schools in 2020. "