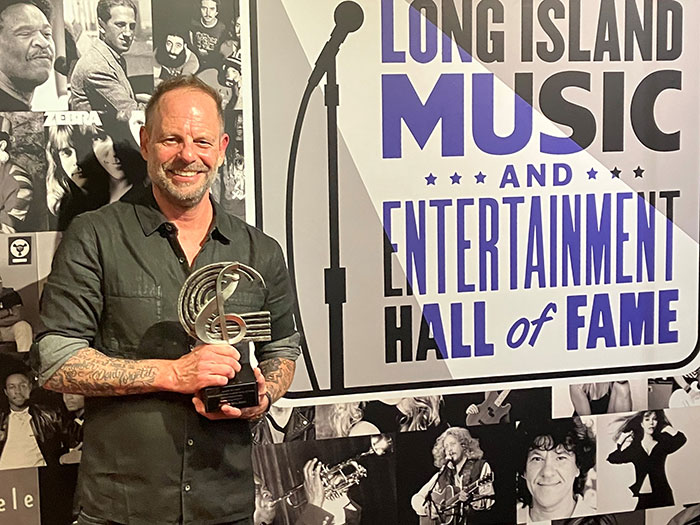 Gin Blossoms' Robin Wilson Inducted to Long Island Music and Entertainment Hall of Fame
August 25, 2023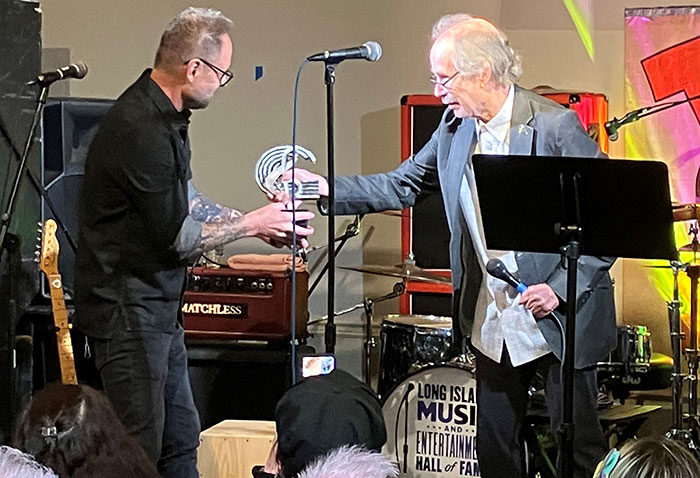 STONY BROOK, NY- Valley Stream resident and Gin Blossoms' lead singer and guitarist Robin Wilson was recently inducted into the Long Island Music and Entertainment Hall of Fame (LIMEHOF) at their new Stony Brook museum location.
"There are so many great musicians that are a part of this Hall of Fame and I'm thrilled to be a part of it," Wilson said. "People like Joan Jett, Blue Oyster Cult, Billy Joel and the Stray Cats and Zebra and Twisted Sister so to be part of the same Hall of Fame as all of these great artists just means the world to me, I'm really proud to be inducted."
Robin Wilson is the singer/songwriter/guitarist for the multi-platinum album selling and Grammy nominated band Gin Blossoms and guest lead singer for The Smithereens. Wilson is the voice powering FM radio staples 'Til I Hear It from You', 'Until I Fall Away', 'Hey Jealousy', 'Follow You Down', 'As Long As It Matters', Allison Road' and many more.
A longtime resident of Valley Stream, Robin is very involved in community activities and events. He has done several benefit concerts for the Valley Stream School District PTA and has hosted – on his front lawn- neighborhood live streamed concerts featuring a mix of local young musicians along with established performers such as Jim Babjak, Dennis Diken, Graham Maby of the Joe Jackson Band and Willie Nile.
When the late Pat DiNizio of The Smithereens passed away in 2017, Jim Babjak, Dennis Diken and Mike Mesaros invited Robin and Marshall Crenshaw to perform with the band moving forward as alternating guest lead singers.
"Robin Wilson's vocals and many of his songs have powered Gin Blossoms to remain being one of the most important and iconic American bands to come out of the creative diverse and influential 1990's music scene," said Norm Prusslin, LIMEHOF Co-founder when introducing Robin on stage during the induction. "Gin Blossoms are only one of a handful of successful bands from that period that have remained relevant 20 plus years on."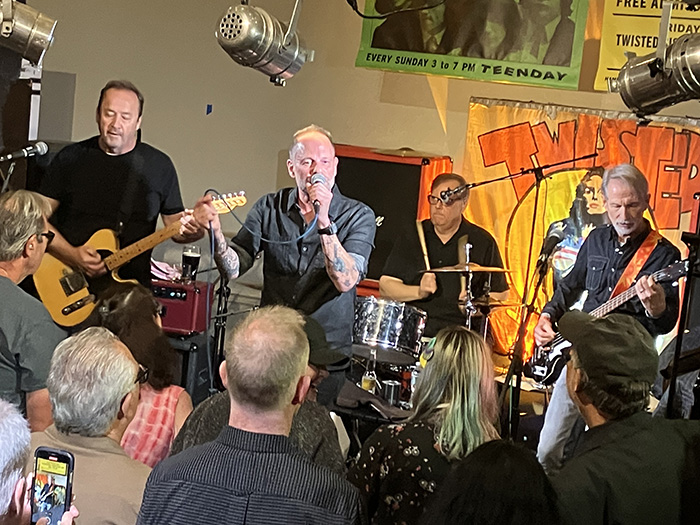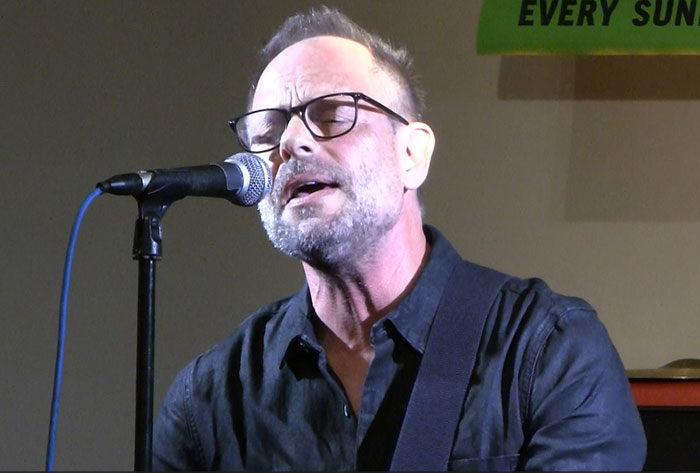 Jim Babjak, Guitarist for the Smithereens spoke to officially induct Robin. On stage, Babjak recounted a story how they first met Robin in 1988 when the Smithereens were touring in Arizona and met him when he was 21 years old working at a local record store.
Gray Wilson, Robin's son also spoke crediting his father with his own interest in music saying he wants to be a musician like Robin, but he'll be able to play all the instruments.
After the induction ceremony, Wilson was joined on stage first by his son Gray and percussionist Ryan Wall to rock out an acoustic set of several Gin Blossoms classics. After that Jim Babjak (Guitarist, The Smithereens), Dennis Diken (Drums, The Smithereens), Graham Maby (Bass, The Joe Jackson Band) took the stage along with Robin to perform several Smithereen hits.
There was a large turn-out of local music fans and LIMEHOF inductee Albert Bouchard (Blue Oyster Cult) was also in attendance to show his support.
"I am so honored to be in this organization," Bouchard said. "People say it's such a sin that Blue Oyster Cult isn't in the Rock and Roll Hall of Fame. I don't give a damn about that! This is the real deal right here. I mean an organization with John Coltrain, Lewis Armstrong, Run DMC, Billy Joel… all these great people not just rock but everything and that's what I'm into, not just Rock I like all kinds of music…classical, jazz, even country and rap… I like it all."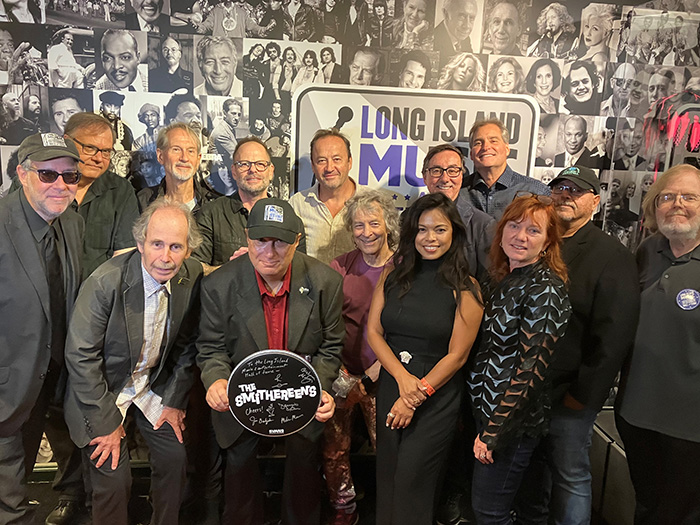 To date, LIMEHOF has inducted over 120 musicians from a range of music genres from across Nassau, Suffolk, Brooklyn and Queens (which LIMEHOF considers geographic Long Island). This latest induction marks the fourth in the new LIMEHOF museum location since it opened last fall. The new building offers LIMEHOF more flexibility in scheduling to induct new artists throughout the year. Wayne Robins, Roger Earl and The Fat Boys were all officially inducted at that location since it opened. LIMEHOF plans to induct and honor new artists including in the entertainment field including actors, comedians and more.
About LIMEHOF
Founded in 2004, the Long Island Music Hall of Fame is a 501(c) (3) organization dedicated to the idea that Long Island's musical and entertainment heritage is an important resource to be celebrated and preserved for future generations. The organization, which encompasses New York State's Nassau, Suffolk, Queens, and Kings (Brooklyn) Counties, was created as a place of community that inspires and explores Long Island music and entertainment in all its forms. In 2022 LIMEHOF opened its first Hall of Fame building location in Stony Brook Village. To date, the organization has inducted more than 120 musicians and music industry executives, and also offers education programs and scholarships, and awards to Long Island students and educators.
For more information about events and future inductions please visit https://www.limusichalloffame.org/museum/.