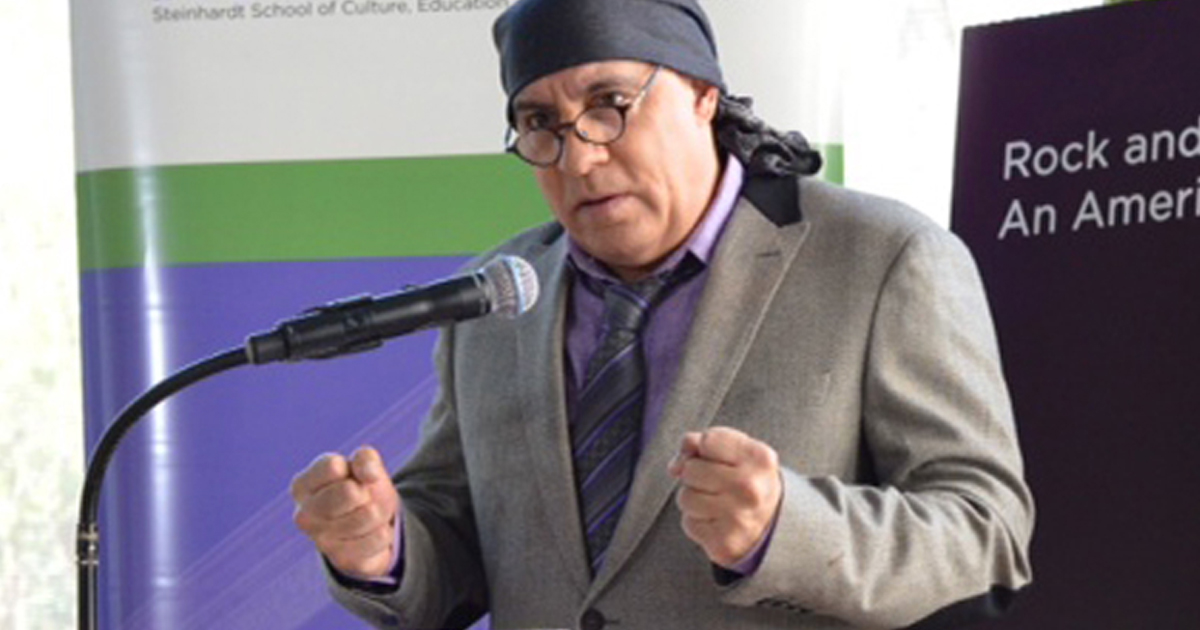 Steven Van Zandt's Rock and Roll Forever Foundation and LIMHoF Form Partnership
November 2, 2015
Steven Van Zandt's Rock and Roll Forever Foundation and
Long Island Music Hall of Fame Form Partnership
(October 28, 2015 – Melville, NY) On Tuesday, November 3, 1015, NYSCAME Suffolk Chapter and SCMEA will present Superintendent's Conference Day at Nesaquake Middle School, St. James. Two music non-profit organizations will partner at a presentation that day from 1-2pm titled, Using The Rock and Roll Forever Foundation in Your Music Class. As co-presenters, Executive Director of the Rock and Roll Forever Foundation, Dr. Warren Zanes and Education Chairman of the Long Island Music Hall of Fame, Tom Needham, will discuss an online educational resource presented by Steven Van Zandt's Rock and Roll Forever Foundation and offered free-of-charge to educators, students, and individuals everywhere.
Rock and Roll: An American Story is the Rock and Roll Foundation's national middle and high school curriculum initiative, and is available for free to educators at teachrock.org. Created by musician Steven Van Zandt, who believes that diminished student engagement is a significant factor behind the dropout crisis affecting American education, this curriculum is centered around popular music, a subject that connects student interests and passion with standards-based learning.
This collaborative session with two music-based non-profit organizations will introduce the many resources available and focus on a sample lesson plan.
Long Island Music Hall of Fame (LIMHOF) is a 501(c)(3) organization dedicated to the idea that Long Island's musical heritage is an important resource to be celebrated and preserved for future generations. LIMHoF Education Chairman, Tom Needham, said, "The Long Island Music Hall of Fame's Education Committee is thrilled to be partnering with Steven Van Zandt's Rock and Roll Forever Foundation. We share a similar philosophy and belief that bringing music history into various subject's classrooms is a worthy goal."
RRFF's Dr. Zanes states, "The Rock and Roll Forever Foundation is excited to be working together with the Long Island Music Hall of Fame in order to connect with area teachers. The rich history of Long Island music relates well to the larger story of popular music in the 20th century. Collaborations of this kind bring energy to the larger effort to get music into our classrooms, whether in social studies, language arts, general music, media studies, or other related disciplines. Students live with music all around them, it's their go-to culture–it's high time to bring it into the classroom, increasing student engagement and furthering the growth of rich interdisciplinary study."
Both organizations plan to join forces in presenting to Long Island audiences in the future.
For more information: