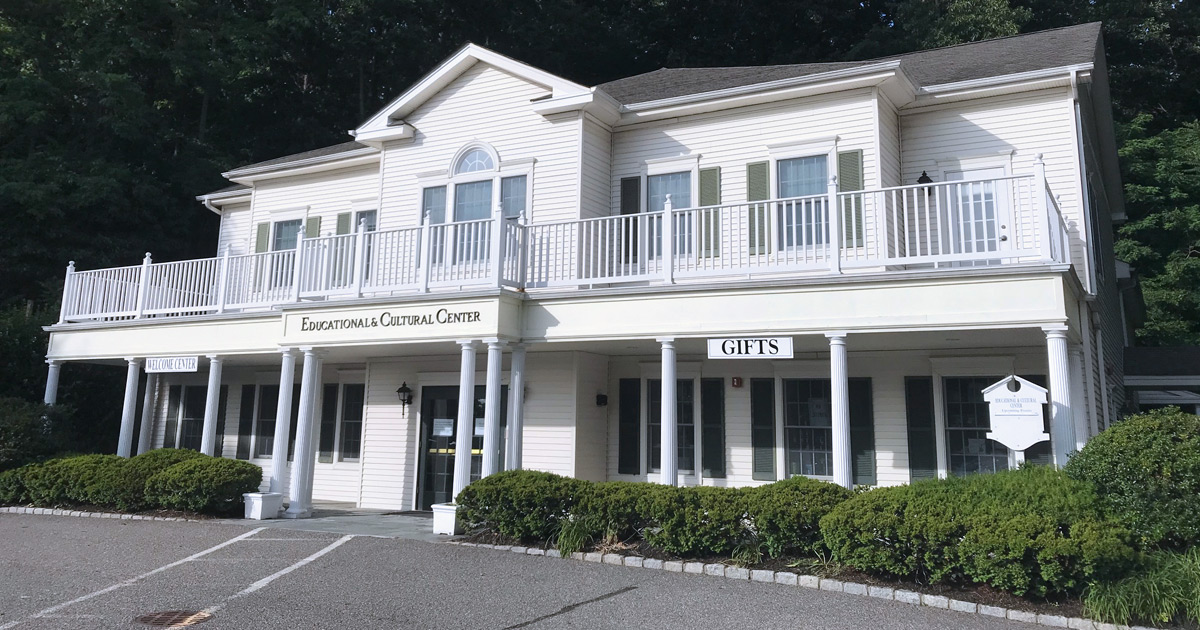 The Ward Melville Heritage Organization & The Long Island Music & Entertainment Hall of Fame Sign Long-Term Lease
June 21, 2022
The Long Island Music & Entertainment Hall of Fame (LIMEHOF) board of trustees are excited to announce today that the organization has signed a long-term lease with the Ward Melville Heritage Organization to house the non-profit organization's first physical facility. The 8,800 square foot Education and Cultural Center (ECC) is located at 97 Main St, Stony Brook, NY in Stony Brook Village Center.
"We are thrilled that LIMEHOF has found a permanent home in such a wonderful location" said Ernie Canadeo, Chairman, LIMEHOF. "We thank the Ward Melville Heritage Organization for leasing us the building. It's in great condition and we're looking forward to creating world-class displays that showcase Long Island's rich and diverse musical and entertainment history in new and exciting ways. We will feature different and exciting exhibits, displays, videos and education offerings that will make our center a dynamic place for people of all ages to visit on a regular basis. We are planning a grand opening in November."
There will be a permanent "Hall of Fame" with plaques and exhibits recognizing the over 100 and growing inductees, as well as areas for a library, classrooms for educational programs and master classes, and a theater.
"Our organization has grown and our wish has always been to have a physical facility to showcase our mission of celebrating Long Island's musical history and supporting education," LIMEHOF Co-founder Norm Prusslin added. "We can now achieve our dream."
The main exhibit space will contain a rotating exhibit theme, and the layout and first exhibit, "Long Island's Legendary Club Scene: 1960's-1980's" is currently being designed by world-renowned visual designer Kevin O'Callaghan.
"Our Trustees feel this is a perfect fit with the other not-for-profits located in Stony Brook Village, namely, The Long Island Museum, The Jazz Loft and The Reboli Center," said Dr. Richard Rugen, Chairman, Ward Melville Heritage Organization.
"With all the other attributes in the Stony Brook Village, such as restaurants, shops, parks, Discovery Boat, kayaks, historic buildings and hotel, this is a perfect addition," Gloria D. Rocchio, President, Ward Melville Heritage Organization, added. The multi-purpose building was constructed to hold exhibits, performances, classes and is wired for distance learning. When I heard that LIMEHOF was looking for a permanent home. I called Ernie Canadeo and the rest is history."
The official ribbon-cutting and public opening of the completed space is scheduled to take place this November. For more information and to see artist renderings of the exhibits, visit www.limehof.org.
###
Fact Sheet
About LIMEHOF
Founded in 2004, the Long Island Music Hall of Fame is a 501(c) (3) organization dedicated to the idea that Long Island's musical heritage is an important resource to be celebrated and preserved for future generations. The organization, which encompasses New York State's Nassau, Suffolk, Queens, and Kings (Brooklyn) Counties, was created as a place of community that inspires and explores Long Island music in all its forms. To date, the organization has inducted more than 100 musicians and music industry executives, and also offers education programs and scholarships to Long Island students, sponsors the Long Island Sound Award, and features traveling educational exhibits, including a state-of-the-art mobile museum. Visit their website at https://www.limusichalloffame.org/.
Name Change and Mission Expansion
Formerly known as the "Long Island Music Hall of Fame" a 501(c)(3) not-for-profit organization founded in 2004, the organization has officially changed its name to the "Long Island Music & Entertainment Hall of Fame" and expanded its mission from focusing exclusively on "the rich music heritage of Long Island and to support music education for future generations" to now recognizing entertainment icons from Nassau, Suffolk, Queens and Kings (Brooklyn) counties in all forms of the arts, including but not limited to comedy, film, television, and theater.
About Designer Kevin O'Callaghan
Kevin O'Callaghan is a world-renowned visual designer and has created over 70 thematic exhibits that have been shown in many of the world's greatest venues. His exhibitions have been featured in over 190 newscasts and 400 articles reaching over 500 markets around the world, including CNN seven times. He has been teaching 3-D design courses at the School of Visual Arts since 1985 and founded the undergraduate 3-D design program, which he currently chairs. He has been a board member of the Long Island Music and Entertainment Hall of Fame for over a decade. Kevin was inducted in the Art Directors Hall of Fame in 2010 and a book on his career was published by Abrams followed – Monumental: the reimagined world of Kevin O'Callaghan. His work is also part of the permanent collection of the Library of Congress.
About Ward Melville Heritage Organization
The Ward Melville Heritage Organization is a 501©3 not-for-profit corporation founded in 1939 by businessman and philanthropist Ward Melville. Inspired by his legacy to preserve historic and environmentally sensitive properties, the WMHO continues to protect and interpret these Long Island treasures. The organization creates interdisciplinary educational and cultural experiences that integrate history, art, theater, music, science, and technology for all ages. The organization owns and manages properties deeded to it by Ward Melville, including the Brewster House (c. 1665), the Thompson House (c. 1709), the Stony Brook Grist Mill (c.1751), which are listed on the state and national register for historic places, the Dr. Erwin Ernst Marine Conservation Center, and the pristine 88-acre wetlands preserve at West Meadow, the 11-acre T. Bayles Minuse Mill Pond and adjacent park, two-acre Upper Pond, and the two-acre Jennie Melville Village Green. To learn more about the WMHO, visit www.wmho.org or call (631) 751-2244.
The Educational and Cultural Center & the Legacy of Music in Stony Brook Village
Opened in 2002, the Educational and Cultural Center (ECC) is an 8,800 square foot, two-story, colonial style building. The ECC was designed for interactive programs and events; such as performances, exhibits and classes. In fact, the Great Room on the first floor has a 28-foot ceilings.
The space where the ECC is located was once the site of the famed Dogwood Hollow built by businessman and philanthropist Ward Melville in honor of his mother Jennie Melville. It was a 2,000+ seat outdoor amphitheater that hosted greats such as Louis Armstrong, Benny Goodman, Count Basie, Liberace and more between 1955 and 1970.